Audio:
Nov15
Nov30
Dec20
Jan17

twitter



Commentary


US Week 2 Pneumonia & Influenza Death Rate Spikes to 8.3%
Recombinomics Commentary 16:30
January 17, 2013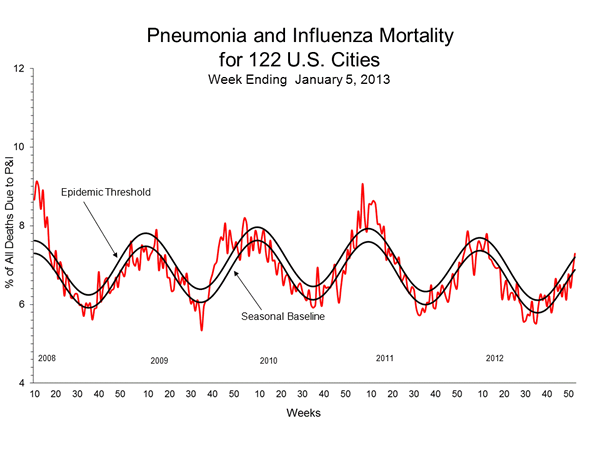 Tomorrow's CDC week 2 FluView will show a Pneumonia and Influenza death rate of 8.3% well above the epidemic threshold of 7.3%. As`seen in the above week 1 graph, in week 52 the rate approached the threshold of 7.1% when it increased to 7.0%. In week 1 it crossed the 7.2% threshold when it rose to 7.3%. Week 2 saw a full percent rise to 8.3, a point above the threshold.
This rise was strongly suggested by Google Flu Trends which showed intense levels in most states and cities in the US, in contrast to the CDC telebriefing which noted some declines, especially in the southeast. However, state weekly reports cited high numbers of fatalities, suggesting that the rate would soon spike higher to levels well above the epidemic threshold as seen in the above week 1 chart.

In addition, the week 2 FluView will cite 9 pediatric deaths.

Recombinomics Presentations

Recombinomics Publications

Recombinomics Paper at Nature Precedings