H1N1 Consulting
Paradigm Shift
Intervention Monitoring
Audio:
Dec16
Jan4
Jan20
Feb17

twitter



Commentary



US Pediatric Influenza Deaths Spike Higher In Week 8 Report
Recombinomics Commentary 14:40
March 4, 2011


NJ (2 ), PA (2 ), OH (1 ), IL (1 ), MI (1 ), MN (1 ), KY (1 ), TX (3 ), NV (1 ), HI (1 )

The above numbers and locations represent the pediatric influenza deaths reported in week 8 as indicated in today's MMWR. The 14 deaths represent a dramatic jump from the 6 deaths reported last week, and likely reflect the increases in H1N1 activity in multiple states. The pediatric deaths are a trailing indicator and the above deaths were likely from prior weeks, as seen in last week's graph below. It is likely that the 15 deaths listed for week 5 will increase and represent the highest number of weekly cases since the spike increases in the fall of 2009.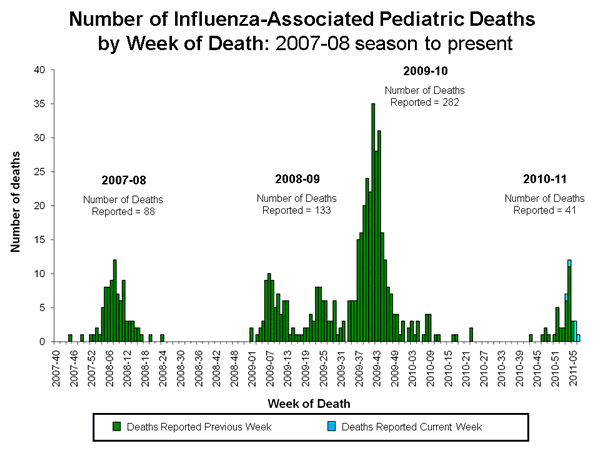 Later today the CDC report will be released detailing the distribution of the newly reported cases as well as detail on the number of cases linked to H1N1. These increases highlight the immunological escape of the H1N1 circulating in the US, which is dominated by the sub-clade with S188T. These increased levels have also created shortages in liquid Tamiflu, recommended for children.

Thus, the decline in H3N2 and influenza B, coupled with the increase in H1N1, will likely lead to additional weekly reports with high levels of pediatric deaths, which are under-represented because of a lack of testing coupled with a lack of sensitivity for H1N1 cases.

The failure to change the vaccine target for next season will once again create unnecessary pediatric deaths in the US and worldwide next season.


Media link
Recombinomics Presentations

Recombinomics Publications

Recombinomics Paper at Nature Precedings