H1N1 Consulting
Paradigm Shift
Intervention Monitoring
Audio:
Aug9
Aug18
Sep5
Sep15

twitter



Commentary


CDC trH3N2 Testing Limits and Delays Raise Pandemic Concerns
Recombinomics Commentary 04:40
September 21, 2011


As a result of intensive surveillance after the identification of two cases of human infection with a novel influenza A virus, one in Indiana and one in Pennsylvania, reported in August MMWR, two additional human infections with novel influenza A virus were identified in Pennsylvania. Both patients were infected with swine-origin influenza A (H3N2) viruses, with illness onset dates of August 18 and August 21, 2011. One patient was hospitalized, but was discharged home and both patients have fully recovered. All three Pennsylvania patients reported contact with pigs at the same agricultural fair in the week preceding symptom onset and enhanced surveillance for human illness continues. Although these additional cases have been detected, exposure to pigs was reported in both cases and no evidence of ongoing transmission of this virus in the community has been identified.

The above comments from the CDC's week 36 FluView describe the two most recent trH3N2 confirmed cases, which update the reported contact with swine (the early report in "have you heard" indicated this cases were in the area of swine). However, this "intensive surveillance" has failed to identify swine with SIV symptoms, swine with an SIV infection, swine with a trH3N2 infection, swine with a constellation of genes matching the three Pennsylvania cases and the case in Indiana, swine with trH3N2 sequences matching the four 2011 cases.

Similar failures have been reported for the Indiana case, which was due to an infection 2 months ago. The samples were collected in week 30 on July 24 and July 27, and the caretaker of the case was linked to swine, but now flu-like symptoms have been reported for the caretaker and no SIV symptoms of lab confirmations have been reported for the swine contacted by the caretaker.

In spite of these failures to connect the four cases with infected swine, the CDC request for additional samples targeted patients with a swine link. Although these samples may be useful, flu season does not officially begin until week 40, so the number of such cases may be limited.
As seen in the graph below, flu confirmations are low, and the expanded view of recent weeks demonstrates an alarming lack of sub-typing in the small number of lab confirmed cases (only 2 of 10 positives in week 35 and 2 of 9 positives in week 36 have been sub-type). This delay in sub-typing is cause for concern, because the sub-typing is the most widespread approach for the identification of 2011 trH3N2 cases, since only the CDC can directly test (PCR) for trH3N2.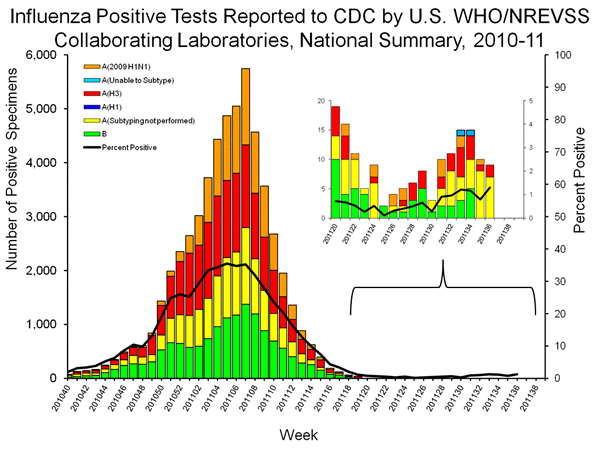 State labs can flag potential cases via sub-type (cases would be influenza A positive and H1/H3 negative). However, the absence of sub-typing for the majority of recent cases eliminates or delays these red flags. Moreover, the absence of two of the four lab confirmed cases in the graph below (as well as underlying data, which has not been updated since last week) raises additional concerns that even know trH3N2 may not yield the "unsubtypable" red flag, or be reported promptly. The samples from the Indiana case were collected in week 30, but the graph below lists 1 influenza B and two influenza A samples that have not been sub-typed).
In addition the issues associated with the lack of sub-typing or reporting of confirmed trH3N2 cases, the absence of trH3N2 PCR testing at state labs forces reliance on a notorious "rapid test" which lacks sensitivity and frequently yield false negatives. trH3N2 cases that are negative for influenza A will fall through the testing cracks because these samples will also be negative on H1 and H3 tests because the PCR test for H1 does not recognize H3, and seasonal H3 tests have failed to detect at least two of the recent trH3N2 cases, as seen by the blue caps on week 33 and 34 bars.
Thus, the failure to laboratory confirm linkage between the human trH3N2 cases and infected swine, the focus on cases with swine linkage, the delays in showing all four recent trH3N2 cases as unsubtypable, and the dismal record of the influenza A rapid test, and the identities between the four recent trH3N2 cases seriously increases trH3N2 pandemic concerns.
Recombinomics Presentations

Recombinomics Publications

Recombinomics Paper at Nature Precedings