H1N1 Consulting
Paradigm Shift
Intervention Monitoring
Audio:
Aug15
Sep11
Sep19
MAP

twitter



Commentary


MERS Migration Into Riyadh KSA
Recombinomics Commentary 02:00
September 25, 2013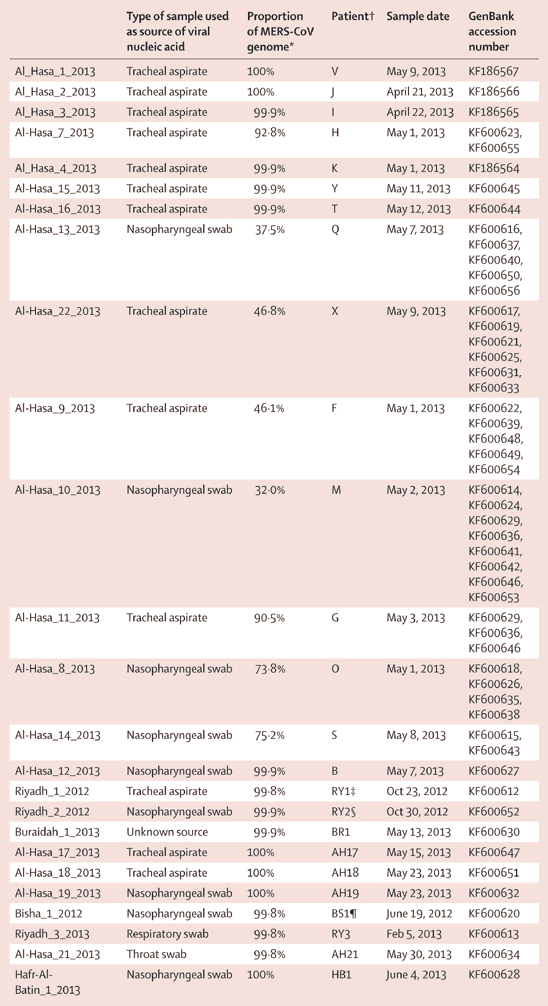 Geographical locations of the ancestral viruses were co-estimated along with the phylogeny, to assess the spatial evolution of the virus. These results suggest the circulating virus in Saudi Arabia is centred around Riyadh, with sporadic excursions to other centres; the most probable geographical location for all of the internal nodes, except for the Al-Hasa outbreak, is in Riyadh

Although the above comments are modified in the Lancet paper discussion, the evidence for Riyadh as the center of the MERS-CoV outbreak is largely lacking. Earlier commentaries, based on sequence data which included collection dates, accurately identified the three cases from Riyadh, as confirmed in the above table (also from the Lancet paper).

Riyadh_1 (RY1) was from a gym teacher (45M) who was the first confirmed case in Riyadh. His daughter had a "mild cold" and was the likely source of his infection. The RY1 sequences formed a node with Bisha_1 (BS1), which was collected from the first confirmed case in Saudi Arabia (who was co-infected with EMC/12 (EMC). The RY1 and BS1 sequences were virtually identical and both had the same 17 BP deletion, signaling clonal expansion. However, the BS1 case was infected four months prior to RY1, suggesting the sub-clade migrated to Riyadh and did not create an excursion from Riyadh, as cited above.

Riyadh_2 (RY2) was from a fatal infection of the son (39M) of the index case for the first confirmed cluster in Riyadh. RY2 formed a second node, which contained most of the clade B sequences. However, the RY2 sequence had a cluster of polymorphisms (T23648T, T23756C, C24191T, C24191T, C24251T, A24514G, G24740C, C25926T, C27092T, T29851C) that were shared with the BS1/RY1 sequences, suggesting RY2 also had origins tracing back to Bisha (home of BS1), which was due to an infection 4 months earlier, raising the possibility that RY2 also involved a parent that was involved in an excursion to Riyadh.

The Riyadh_3 (RY3) case was not detailed in a prior publication and the Lancet paper and characterization sheet withheld the patient's age and gender, but the collection date (February 5) was during the hospitalization of another fatal case (61F) who developed symptoms while in Egypt (which is supported by a cluster of polymorphisms (T2456A, C3276A, C3320T, T6332C) shared by JOR and EMC, suggesting that RY3 also migrated to Riyadh.

Thus, while Riyadh may now have a large concentration of MERS-CoV cases, represented by the three Riyadh related nodes, these early cases appear to have origins outside of Riyadh and the diversity may be largely due to the size of the city's population base.



Moreover, all three Riyadh sequences have clear evidence of recombination, limiting the utility of traditional phylogenetic analysis and geographic tracing.
Recombinomics Presentations

Recombinomics Publications

Recombinomics Paper at Nature Precedings