H1N1 Consulting
Paradigm Shift
Intervention Monitoring
Audio:
Oct18
Nov15
Nov30
Dec20

twitter



Commentary


Eight Adolescent Seasonal Flu Deaths In Week 51 FluView
Recombinomics Commentary 18:00
December 28, 2012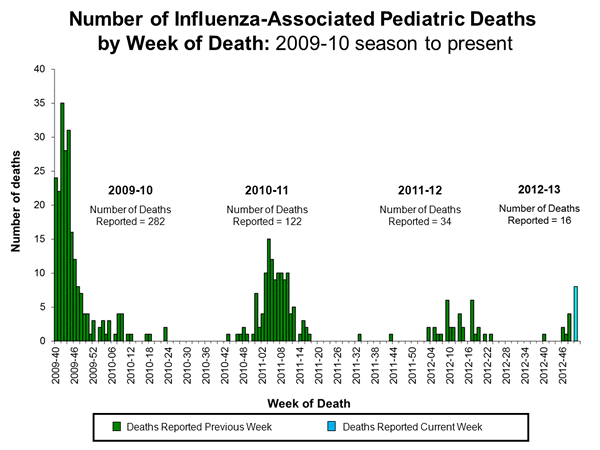 Eight influenza-associated pediatric deaths were reported to CDC during week 51. Three were associated with influenza B viruses, 3 were associated with influenza A (H3) viruses, and 2 were associated with influenza A viruses for which the subtype was not determined. All 8 deaths occurred during week 50 (week ending December 15, 2012). This brings the total number of influenza-associated pediatric deaths reported during the 2012-2013 season to 16.

The above figure and description from the CDC week 51 FluView describe 8 adolescent flu deaths, all of which were reported in week 50. This spike was predicted by recent media and state lab reports, but some of these cases have yet to be reported in the CDC FluView. The location of the cases is given on the reportable disease page of the weekly MMWR, but the week 51 report will not be published until 2013 due to the holidays. The locations will help identify the number of cases that have still not been included in the 16 fatal cases in the recent FluView reports.

All 8 of the newly reported fatalities were in week 50, and include 3 influenza B cases. However, earlier reports described 4 influenza B cases in week 50 (2 in Colorado, 1 in Texas, and 1 in Michigan). Similarly only one of the two week 48 fatalities in South Carolina have been reported, and the case in Maine was in week 49. The five infleunza A cases reported in the Week 51 FluView may include the previously cited cases in Michigan and Washington, as well as the New York case cited in the week 51 New York report.



However, the number of cases in week 50, as well as earlier weeks, is expected to rise. As seen in the above figure, the 8 cases listed for week 50 are more than any week since the peak of the flu activity in the 2010/2011 season. Moreover, the deaths in early 2013 are also expected to increase as the number of states reporting widespread influenza increases and the frequency of H3N2 cases increase (influenza A frequency increased to 84.9% in week 51 and almost all influenza A cases were H3N2).





In addition, the week 51 FluView fails to report additional low reactors, signaling a low sensitivity in the antigen characterization testing. The genetic changes that generate the low reactor / vaccine failure result are widespread in the circulating Victoria/361 strain, yet the CDC is reporting only 2/281 low reactors (0.7%).
Recombinomics Presentations

Recombinomics Publications

Recombinomics Paper at Nature Precedings