H1N1 Consulting
Paradigm Shift
Intervention Monitoring
Audio:
Nov15
Nov30
Dec20
Jan17

twitter



Commentary


33 Week 2 Flu Deaths In Minnesota Raises State Total To 60
Recombinomics Commentary 14:45
January 18, 2013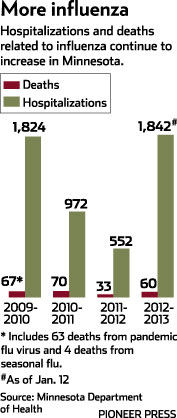 The above graph highlights recent seasonal flu totals for Minnesota and reflects the dramatic increases in the past two week. In week 2 Minnesota reported 33 lab confirmed deaths, which followed 23 deaths reported in week 1. The 56 deaths in the past two weeks increased the 2012-13 total to 60, which is 10 shy of the state record for confirmed deaths in the 2010-11 season. Moreover, the 476 hospitalized cases in week 2, when coupled with the 401 hospitalized cases in week 1, raised the season total to 1842, which set a Minnesota record for lab confirmed hospitalizations in a season, and virtually assured a new record for lab confirmed deaths after the week 3 tally is added.

The vast majority of the deaths were adults. Minnesota has only reported one pediatric death (14F) this season, which was in addition to the death of a Texas resident (17M) who was vacationing in Wisconsin and died in Minnesota (the death was tallied in Texas to raise their total to six pediatric deaths through week 1). However, the week 2 report cited reports of influenza-like illness in 92 schools, as well as 46 long term care facilities (which was in addition to 28 reports in week 1 for long term care facilities) signaled intense activity. The dramatic spikes in both of these areas indicate the flu is still taking a significant toll on pediatric residents as well as those over 65.

Today's week 2 CDC FluView for the country will report a dramatic spike in the Pneumonia and Influenza death rate (8.3% compared to 7.3% in week 1) as well as spike a pediatric deaths (up 9 in week 2 to raise the season total to 29, which does not reflect additional lab confirmed cases cited in state weekly reports or recent media stories.

Recombinomics Presentations

Recombinomics Publications

Recombinomics Paper at Nature Precedings