H1N1 Consulting
Paradigm Shift
Intervention Monitoring
Audio:
Nov18
Dec16
Jan4
Jan20

twitter



Commentary



Pennsylvania Unsubtypables Raise trH3N2 Pandemic Concerns
Recombinomics Commentary 23:55
February 8, 2011


Of the 121 influenza specimens sutyped (sic) at the state lab, 26 (21%) were the 2009 A/H1N1, 24 (28%)(sic) A/H3, 34 (28%) were untyped influenza type A and 8 (7%) influenza type B.



The above comment from the week 5 report from Pennsylvania suggests that the number of unsubtypable samples has spiked higher. The numbers listed above are far from clear because only 92 of the 121 subtyped are categorized, and it is unclear if the term "untyped" refers to those not typed or those unsubtypable. However, the pie chart included in the report list 21 samples as unsutypable (sic), in addition to 176 samples that were influenza A but not typed.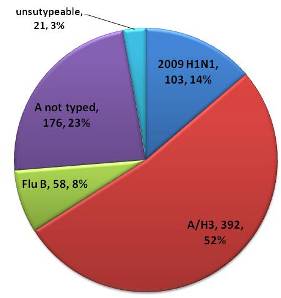 The reason for the large number of unsubtypable samples, as well as the precise definition used in Pennsylvania, remain unclear, but Pennsylvania has also reported two trH3N2 cases, infected in September and October, so the increasing numbers of unsubtypable samples may reflect increased transmission of trH3N2.

The sequences of the 2010 trH3N2 isolates (from MN, WI, PA) clearly supports human to human transmission, and the close sequence similarity between the October isolate, Pennsylvania/14/2010, and two Pennsylvania swine sequences from samples collected a day after disease onset, indicate these sequences are also circulating in swine, which appear to be casually transmitted to humans, since the October PA case has denied contact with swine.

More detail on the increasing numbers of unsubtypable samples, which have been reported in multiple weekly reports in late 2010 and early 2011 in Pennsylvania, as well increasing numbers in other states, is long overdue.


Media link
Recombinomics Presentations

Recombinomics Publications

Recombinomics Paper at Nature Precedings